The world's second-largest economy and most competitive consumer market, China has been at the forefront of marketing trends shaping the global economy. According to China's Ministry of Commerce, sales of consumer goods reached $6 trillion in 2020. Home to major online e-commerce platforms such as Alibaba and JD.com, China has also remained the world's largest online retail economy for the past 8 years.
The country's mature e-commerce economy, high mobile adaptation and comprehensive, fully-developed internet services infrastructure has made it the perfect environment for the emergence of a variety of innovative marketing trends in the past few years. These trends have not only reshaped marketing playbooks within China, but also impacted consumer markets around the globe. Understanding these new trends will help businesses around the world effectively craft cutting-edge marketing strategies.
1. From KOL marketing to KOLC marketing
KOL (influencer) marketing, also referred to as influencer marketing, was one of the foremost developments to emerge inside the social media era. As China's e-commerce consumers become more and more internet savvy and government investigations began exposing KOL misconduct, the impact of KOL endorsements has waned. Nowadays, the Chinese consumer, in particular the digital natives of Gen Z, is increasingly turning towards KOCs, or Key Opinion Consumers, for product information and recommendations.
KOCs are often seen as more authentic than KOLs. With fewer followers and a more approachable presence on social media, they are perceived as general consumers themselves. By presenting product evaluations and suggestions from the perspective of the end user, KOCs maintain more sway over customers looking for high-quality products instead of focusing only on brands with cultural power.
In China, marketers are turning in the direction of a two-pronged approach of mixed KOL and KOC marketing, the use of KOL advertising to boost brand exposure and the usage of KOC advertising to more granularly target unique patron companies.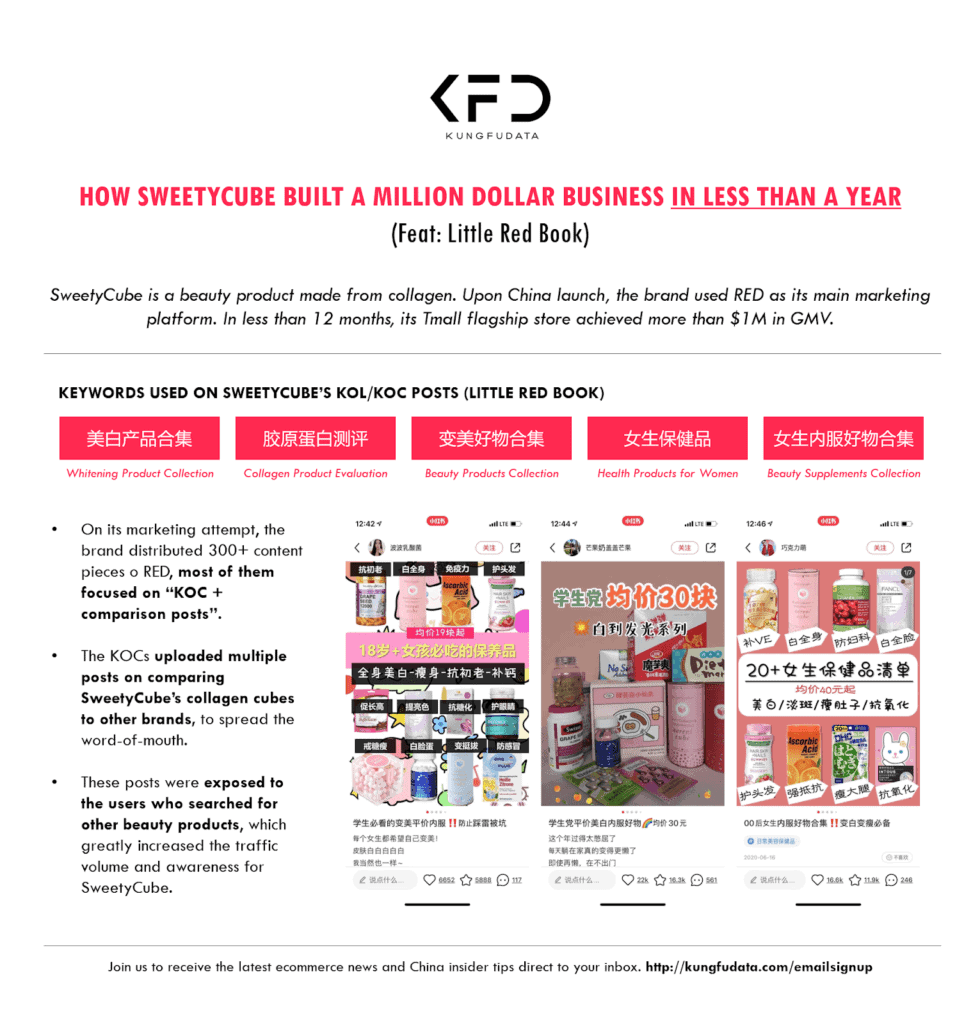 Livestream marketing became popular in 2016 following the release of Taobao's live-streaming functionality Taobao Live. Ever since, it has exploded in popularity during the COVID-19 pandemic. With the incorporation of e-commerce infrastructure on livestream-equipped social media networks like Douyin, Xiaohongshu and Kuaishou, as well as the integration of livestream functionalities on e-commerce platforms like Taobao and JD.com, livestream marketing has transformed into a mainstay of today's advertising strategy in China.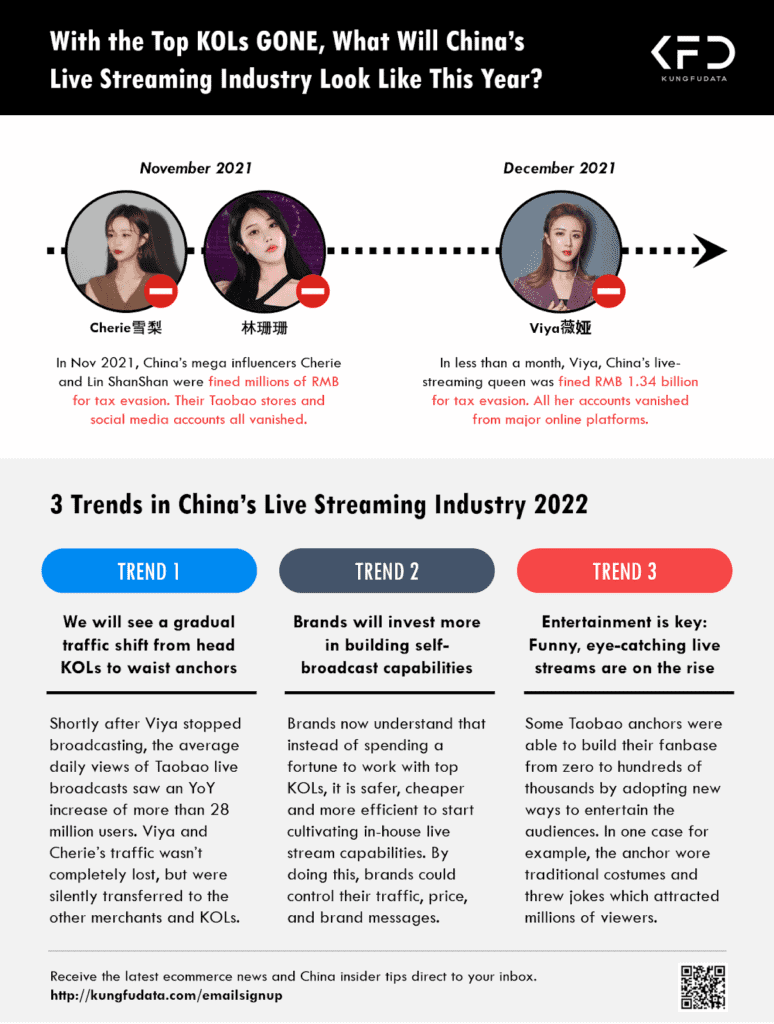 Group-buying platform Pinduoduo went public in 2018, raising $1.6 billion through its New York IPO. Only 3 years after its founding, Pinduoduo has penetrated every level of the e-commerce market in China.
The secret to its success? Discounts fuelled by group-buying.
Group buying enabled consumers across the country to place larger orders at once, making wholesale prices available to end consumers. In residential estates, residents operate WeChat groups to organise regular group purchases.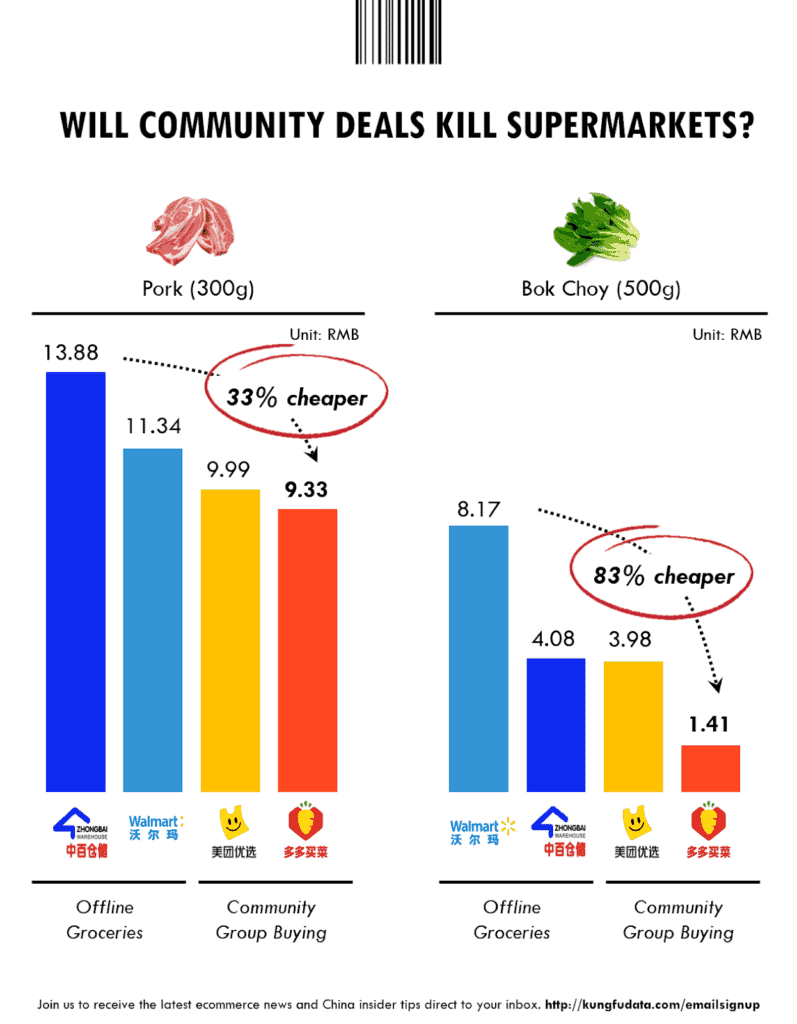 4. Personalization and Customization
Customisation is the most sought after service by Chinese consumers, according to a 2018 study by Luxue. Personalisation and customisation has been a steadily growing trend in China, in particular in the apparel market.
Formerly an exclusive service, personalisation and customisation are now widely offered by major fashion brands in China, with brands such as Calvin Klein and Longchamp recently offering such services themselves.
Private traffic has become a significant part of B2C marketing in China. In contrast to private marketing in the West, which often takes place via blog articles and email lists, in China, thanks to such a mature internet ecosystem, private traffic mostly takes place through WeChat customer groups. By allowing brands to present their brand directly to consumers, private traffic enables brands to reduce their reliance on e-commerce search algorithms.
Private traffic also helps brands build authenticity with consumers, increasing CTAs and customer retention.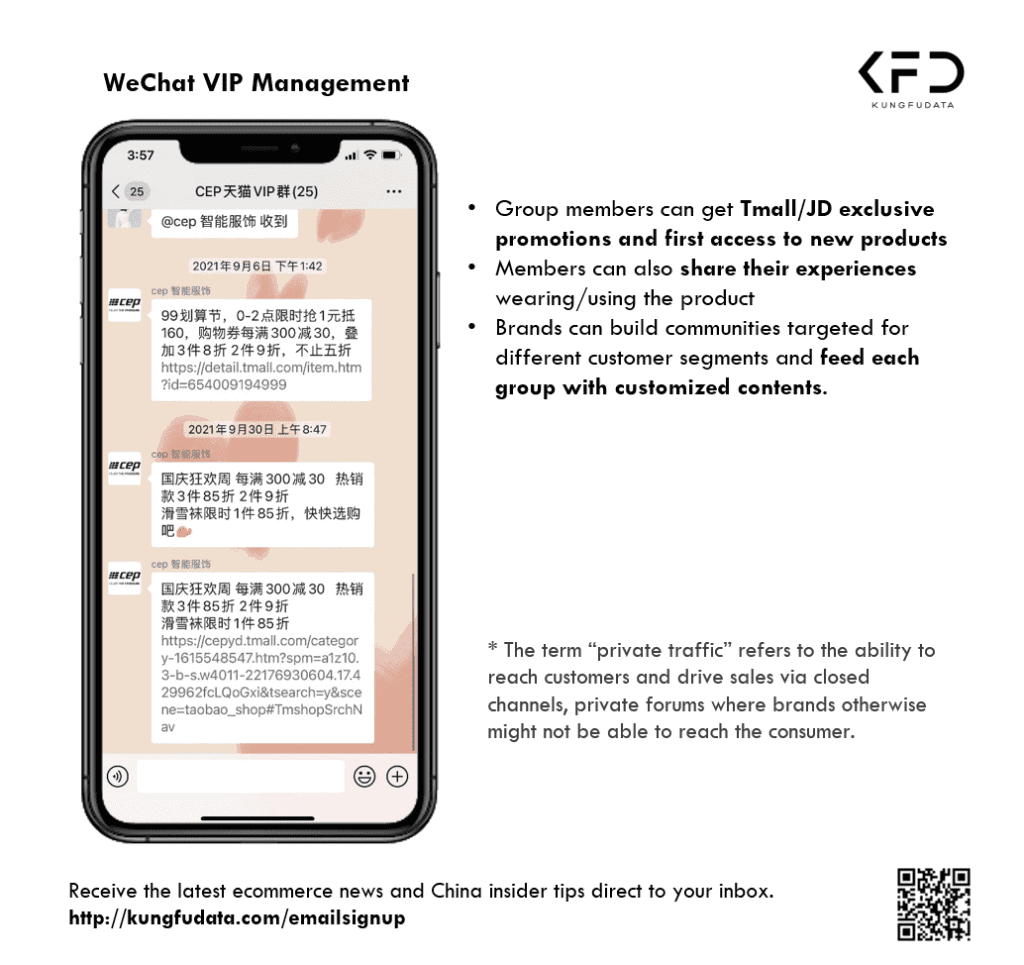 Artificial intelligence has been slowly entering all aspects of the consumer journey in China, from AI-assisted customer service, AI product suggestions, virtual influencers, logistics management and more. These new advancements have created a plethora of new ways for brands to connect with consumers and enhance the customer experience journey.
Across the board, social media and e-commerce companies in China have been investing in and building out their AI infrastructure, including Alibaba (Alipay, Taobao, Tmall), Baidu, Bytedance (Douyin, Tiktok) and more. In the next few months and years, we expect AI-powered marketing to become a major trend.
Platforms like Xiaohongshu, combined with the integration of e-commerce within China's major social media platforms, have created a new phenomenon known as social commerce. Indeed, one of Pinduoduo's most important innovations was the way it leveraged social commerce in its business model. WeChat has built a complete ecosystem combining instant messaging, social media, official accounts and mini-programs with mobile payments and asset management, which contributed significantly to the growth of social commerce. Furthermore, social platforms such as Xiaohongshu and Douyin recently began integrating e-commerce systems within their apps. Western platforms are beginning to realise the potential of social commerce, with platforms such as Facebook and Whatsapp attempting to copy the models of their Chinese counterparts.
8. Targeting lower-tier cities
China's top-tier cities (Shanghai, Shenzhen, Beijing and Guangzhou) have become highly saturated and competitive markets for domestic and foreign brands. As a result, foreign brands are beginning to enter China's rapidly growing lower-tier cities in force.
Lower-tier cities comprise a large proportion of China's population and are now one of the major drivers of market growth in China. While they do not receive the same cultural exposure as their tier-one counterparts, residents of these lower-tier cities have had access to increased spending power. With the growth of the middle class combined with cheaper cost of living, residents in these cities are increasingly open to spending more on consumer goods.
These statistics are real. In 2019, residents of lower-tier cities comprised 70% of Alibaba's newly registered users. Furthermore, one of the factors behind Pinduoduo's exponential growth was its emphasis on lower-tier cities.
Keep an eye on KFD's Resource Center for the latest and freshest insights and case studies, as well as answers to all of your questions pertaining to building your brand in China!