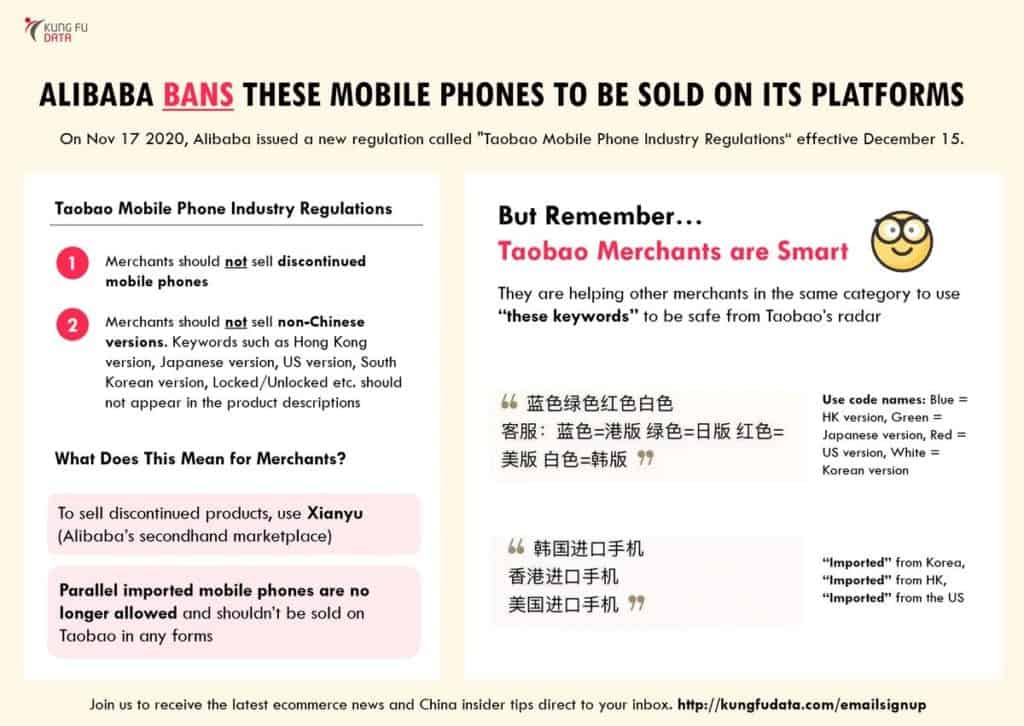 On November 17, 2020, Alibaba issued a new regulation called "Taobao Mobile Phone Industry Regulations" that limits what mobile phones can be sold on Taobao.
While it isn't a complete ban, it does severely limit selection.
Here are two major takeaways from the new regulations, which will go into effect on December 15th.
1) Merchants should NOT sell discontinued mobile phones
2) Merchants should NOT sell non-Chinese versions of mobile phones. Keywords such as Hong Kong version, Japanese version, US version, Locked/Unlocked, etc. should NOT appear in the product descriptions.
What does this mean for merchants?
To sell discontinued products, merchants will need to use Xianyu (Alibaba's secondhand marketplace.) Also, parallel imported mobile phones are no longer allowed and shouldn't be sold on Taobao in any form.
But remember… this is China (and Taobao merchants are smart.)
They are already working on ways "around" the regulations using covert keywords to stay under Taobao's radar, while still offering their usual assortment of phones.
Check out the infographic for more on these "secret" keywords.