We've seen some small to medium sized brands consider testing China's ecommerce market with a Taobao store before investing heavily into a Tmall store. For those who aren't familiar, Tmall is a part of China's largest ecommerce platform Taobao and it's reserved only for registered brands and retailers. Brands must consider the "unfair" advantage Tmall has over Taobao and capitalize on every opportunity available to them. Here are some ways Alibaba plays favorites towards Tmall stores.
Tmall stores are given much greater visibility in Taobao search results. The results are sort of "rigged" so that Tmall stores receive top priority in securing the most valuable positions. The top 3 most valuable positions are referred to as DouFuKuais (DFKs) in the industry. The direct translation would be "Tofu Spots", so we'll stick with DFKs here.
The significance of Tmall stores having greater access to DFKs is far greater than simply being more visible. DFKs have proven to be worth more than any of the next 40+ listings. In some cases, DFKs are worth more than the next 40+ all combined.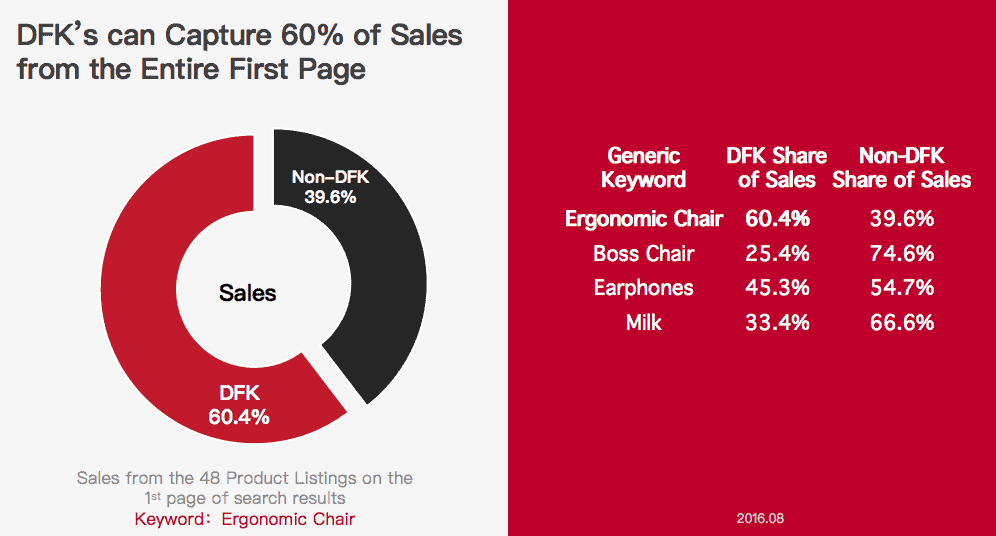 Note: Although Tmall and Taobao are two independent platforms, more than 90% of all traffic for any given Tmall store still originates from Taobao, more specifically the Taobao app. This is because 90% of consumers only use the Taobao app for all their shopping, where Tmall is deeply integrated into Taobao. Only a tiny percentage of shoppers use the independent Tmall app.
The Catch: This all sounds like great news until stores actually try to secure those DFKs. Despite having priority to these valuable search positions, Tmall stores must go through extremely tough competition to prove their worth. That's because DFKs can only be earned, not bought. Brands and retailers must employ a sound strategy that can consistently grow sales in the long term.
It is also crucial to have a solid optimization strategy. There are countless variables that can be optimized and you need to pick the right battles rather than going after every fancy optimization trick out there. You need to go for the low hanging fruit, which can hugely differ between stores. For example, reducing product offerings could improve search visibility because inventory turnover is a factor in Taobao's search algorithm. However, what works for one store may have little to no impact on another. When executed correctly, it can mean multiplying sales in a short period of time.
Alibaba has a wide range of events happening all year long and most of them are promoting items sold by Tmall stores.
Note: An "event" in China's world of ecommerce means any sales promotion. This includes the biggest shopping day Nov. 11, aka Double-11 or Singles' day as well as any of the smaller ones like Women's day, Father's day, Back-to-school etc. Most of these are free traffic and some have minor fees to participate in..
Singles' day is actually branded as a Tmall event, not Taobao. There are promotions that get front page exposure with a curated list of items hand-picked from Tmall stores. It's hard to find items from Taobao stores especially in the top tier events.
Singles' day sales is beyond anything seen in the US. Countless brands are earning millions of dollars on that day alone in Tmall and they rely entirely on getting the exposure through prime screen real estate.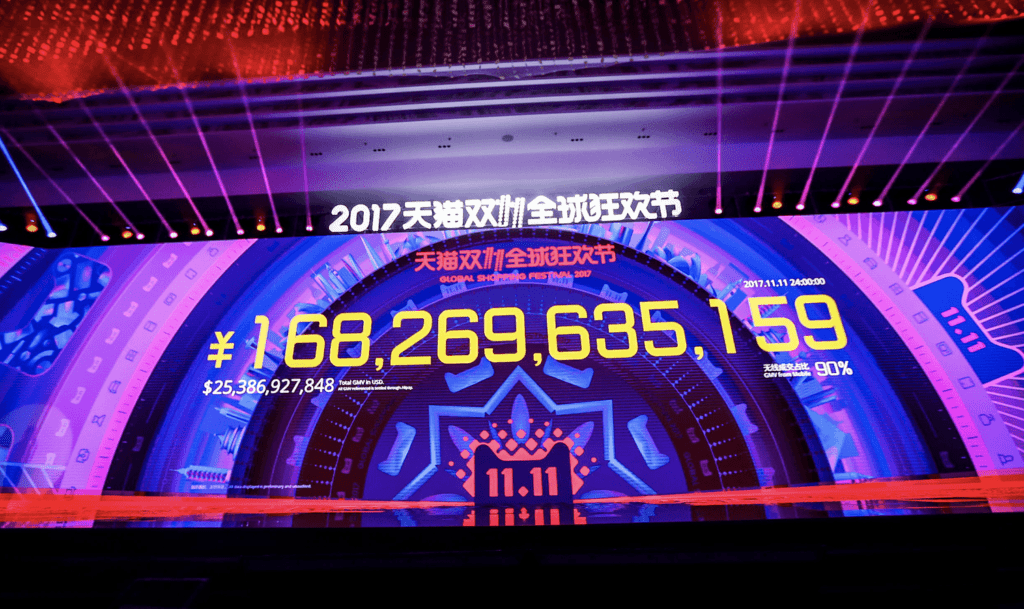 That doesn't mean Taobao stores are entirely deprived of major events. They still get to participate in significant events like daily deals which run all-year long. Even in such events, most of the items come from Tmall stores. Although not as high profile as major platform-wide events, daily deals serve as a very healthy contribution to a Tmall store's ongoing monthly sales.
The Catch: Everyone knows that the front page featured campaigns will get insane amounts of traffic. With demand skyrocketing for limited spots, Tmall event managers are flooded with requests from brands for the same prime real estate. As a result, brands are often forced to further reduce event pricing just to be able to compete with their competitors' Tmall stores.
Contrary to popular belief, getting placement in top tier events isn't merely a matter of simply using personal connections. Communication with event managers need to take place several months in advance, demonstrating a sound strategy with offers attractive to target consumers, backed by guarantees on logistics and noteworthy sales numbers from past events. Failure to follow through on those guarantees will result in being blacklisted for future events.
Among Tmall stores, brand flagship stores have a unique advantage. The words "flagship store" and "official flagship store" are all strictly reserved for brands and their authorized partners. These words coming from a Tmall store are super powerful because it is widely recognized that flagships are more trustworthy. Companies need to go through an extremely labor intensive paperwork process to set up a Tmall store, and flagship stores especially need to prove that they represent the brand itself. That's why brands must always use those words in the store name, rather than try to use a fancier name.
Even if you're a retailer with a non-flagship Tmall store, you'd have authority just by being a Tmall store for having gone through similar paperwork. Besides, Tmall was created in 2008 to become a place where consumers could feel safe about the authenticity of the things they bought. It was during a time when Taobao was being overrun with fakes. Based on that alone, it's no surprise that Alibaba continues to play favorites for Tmall stores.
Exclusive Access to High ROI Ads
Tmall stores have the option to use a type of ad that produces an ROI far higher than any other existing paid traffic. It's called Ming Xing Dian Pu (MXDP) and it is a banner that shows up in the search results page when a customer searches for a brand name. The thing is that this ad shows up BEFORE any of the search results. It is far more valuable than the top 3 search results and only brand flagships and their approved retailers qualify for this.
On a mobile screen, it is the first thing that shows up taking a third of the entire screen. These ads are able to capture traffic for the Tmall store way better than all other options available… and only Tmall stores get to use this.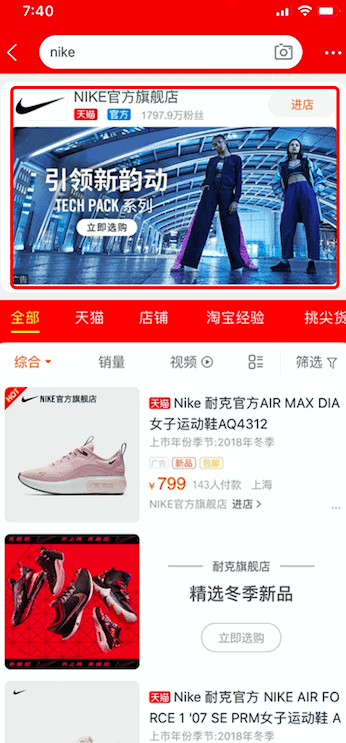 Spending on this type of ad is limited by the number of people that search for the brand name. But there is no catch to this type of ad so brands must maximize spending on this.
Given the way Alibaba favors Tmall, there should be no question for brands: Tmall is the way to go. There is no way to get a glimpse of a brand's real potential via a Taobao store and even if by some miracle that shows some signals of growth, that can't be transferred over to a Tmall store. A serious up front investment is required for success in ecommerce in China, including all the various costs involved in a Tmall store, but it also comes with serious benefits you would not get from a Taobao store test run.
Fortunately, Alibaba's ecosystem has countless indicators that can be leveraged to make a sound estimate of future potential. With the right data strategy, you can gauge where your brand stands today relative to your competitors and make a better decision on when it's the right time to start and how to maximize sales.