China's market is expected to become the world's largest goods consumption market by 2025. It's a market full of opportunities but with just as many challenges. If you want know how to sell in china and find success with Chinese consumers, you must understand many aspects of the market.
When you look at the numbers, it becomes very clear that e-commerce must be a core part of the strategy:
China's population is at 1.4 billion 
70% use the internet
842 million shop online
Total e-commerce revenue in China expected to reach 1.5 trillion dollars by 2024
Naturally, e-commerce is the default means of shopping for the majority of consumers in China. Anyone entering the China market should be inherently familiar with its major ecommerce marketplaces: Taobao, Tmall, JD.com, Pinduoduo and Suning. These are by far the largest and most well-known e-commerce platforms used by China's consumers.
To be able to capitalize on the market's opportunities, it is imperative that you understand the unique aspects of China's diverse marketplace, including:
the general market situation;
the business culture;
the psychology of consumers and how they choose who to buy from;
options for directly entering the market;
peculiarities of various marketing and sales channels
China's E-commerce Market Situation
China's digital economy is like no other. Almost all these online purchases happen through marketplaces, not independent official stores. And among these marketplaces, Tmall & JD together dominate the entire e-commerce market. It has been this way for many years.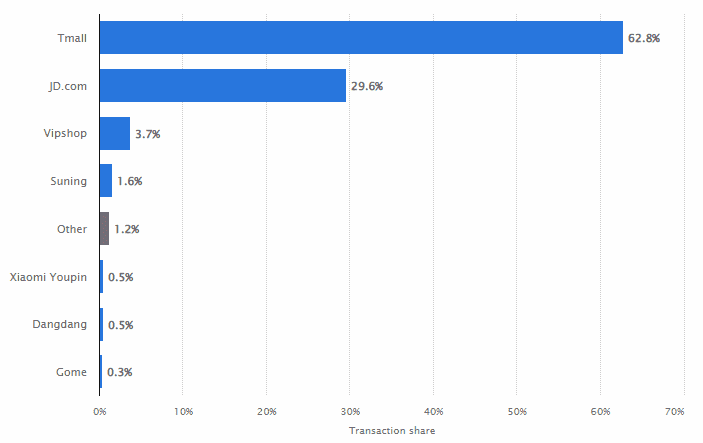 Various factors like a brand's size, type of product and target audience can affect your decision in choosing the right platforms to sell in. But in almost all cases, Tmall is an integral part of any brand's overall market strategy in China. 
The Distinctiveness of the Busines Culture
China's rapid economic expansion has brought about many social changes for its massive population. Furthermore, the financial growth that the country spearheaded led to an accelerated shift towards consumption among specific demographics. 
For instance, Jeffrey Towson, author of 'The One Hour China Book', gave an example of Chinese mothers, whom he labelled 'super consumers'. According to Towson, these consumers functioned as market influencers, controlling spending within the family. As a result, it is imperative for brands to consider the unique concerns and perceptions of this consumer segment, even when selling products aimed at different audiences.
Furthermore, China is a relationships-driven society, with a system known as guanxi. Most business is conducted through relationships and referrals from friends and family members. This extends beyond the B2B circles and into B2C circles. Word-of-mouth marketing is a strong driver of sales in China, and authenticity is an enormous factor in building strong brand-consumer relationships. 
This dynamic is hard coded into the DNA of e-commerce in China. The way people buy things, the type of information they look for and the ways consumers expect a business to communicate are all entirely different from the west.
Recognition of Chinese business culture can help brands greatly in the long run. On the other hand, not thoroughly understanding Chinese consumers and being unwilling to adapt to the China market have been the main reasons so many western companies fail when entering China. 
The psychology of the Chinese Consumer: What you need to know for them to buy from you
Chinese consumers are huge when it comes to quality. Instead of focusing on getting the cheapest deals, more and more consumers in China care about the quality of the item they are spending their money on.
These are sophisticated consumers doing extensive research before reaching a decision to buy. They'll scour the internet to find out about …
The brand: is it reputable? Will this increase my status?
Reviews: what do others say about this brand and product?
Price: what does it cost in its home country?
This means the products you sell must be of high quality, your brand must be reputable, and you must establish authenticity with your target consumers.
Chinese consumers also have very high expectations when communicating with brands both online and offline. Most brands are shocked to see how far we (Kung Fu Data) must go with customer service just to run an online store. 
What you can sell in China: Top 10 Best Selling Products in China
Deciding what to sell in China can sometimes be tricky. These are the top 10 best selling products in China that have been selling like hotcakes recently:
Clothing and Shoes
Jewellery
Makeup
Fresh Products
Nutrient Supplements
Packaged Health Foods
Wine
Baby Food
Sporting Goods
Electronics
Tmall has many levels of categories. Some grow in size that they move up a tier, like these:
Mens Beauty
Perfume
Blind box
Pet products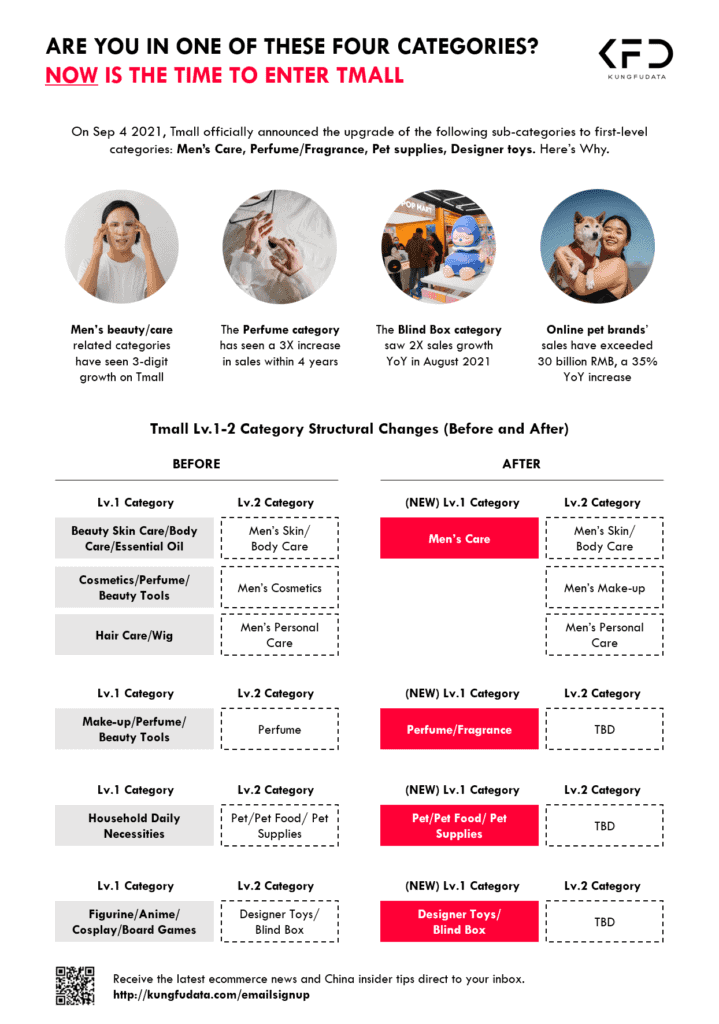 Options for Bringing Your Brand to and Selling in China
There are a few options for foreign companies and brands to start selling in China. Two of the most popular are:
Registering and establishing a legal entity in China
Selling cross-border via online marketplace
Most brands go with option one and establish Wholly Foreign-Owned Enterprises (WFOEs, pronounced 'woofies') in China. This is by far the most flexible option for foreign brands in the long run, as this essentially enables the brand to own a legal operating entity in China. As you can imagine, this will make the journey to register and sell on China's many e-commerce platforms much, much smoother.
Next, it is imperative that your brand apply for an ICP licence (ICP stands for Internet Content Provider). This is absolutely essential for any entity wishing to establish an online presence in China.
There are two classes of ICP licences, commercial and non-commercial.
Commercial ICP licences are used for any website offering goods or services to customers

Non-commercial ICP filings are for websites that are purely informational in their nature and are not directly involved in sales
On average, it takes 20 business days to obtain an ICP licence after submitting relevant documents to a hosting provider. If the documents are deemed valid upon review by the provider, they are passed along to the Ministry of Industry and Information Technology for governmental review. If at either stage the documents are rejected, you will be required to submit additional documents.
Most brands circumvent this hassle by selling through a cross-border marketplace, as it is more accessible. Tmall Global does not require ICP licences to register a shop.
Cross-border E-commerce through China's leading online marketplaces
Cross border e-commerce is different from regular e-commerce in China. It allows businesses to skip a lot of red tape and access a Chinese consumer audience. Consumers generally just have to wait a little longer than usual to receive their products, but the buying experience overall remains the same.
All the top e-ecommerce platforms have a sub-platform dedicated to cross-border e-commerce. 
Tmall has Tmall Global
JD has JD Worldwide
VIP has VIP International
Suning has Suning International
Xiaohongshu has RED Mall
But there are also other independent platforms like Kaola that are dedicated to cross-border e-commerce.
The Main E-commerce Platforms in China
Here's a closer look at the largest e-commerce platforms. They each have their own unique characteristics. 
Tmall: Peculiarities of Doing Business on the Online Platform as a Foreign Brand
Tmall is the #1 B2C platform. Having a Tmall store is essential for almost any brand. It's where most of e-commerce takes place in China and it's also a status symbol proving legitimacy. It is also fiercely competitive. As a foreign brand, you face the competition of local brands that are usually cheaper, but you also go up against other foreign brands. 
Benefits of Working with Tmall
Increased brand visibility on China e-commerce
Trusted platform by consumers nationwide
Establish brand authority and trust with official registered presence
Support for robust marketing with live-streaming and in-app social feed
Less control over e-commerce environment compared with operating independent e-commerce website
Lots of paperwork required
Costly to set up independently, approximately $8000-25,000
High annual service fees, from $8000-10,000
Highly competitive market
Additional commission fees
Many foreign brands face the dilemma: Whether to launch a Tmall (domestic) store or a Tmall Global store. Many brands choose to start with Tmall Global because it requires less paperwork and less upfront costs to get started. 
We most often recommend brands to go the "legit" route — register a Chinese legal entity, move inventory to China and set up shop on regular Tmall. This is because the cost per unit of shipping products one by one to China upon demand is much higher than shipping them in bulk. 
Furthermore, shipping orders internationally is much slower than shipping them from a domestic location. What's worse, shipments can sometimes get held up in Customs, thereby negatively impacting the customer experience even more.
Taobao is the C2C marketplace of Alibaba. Setting up a Taobao store instead of a Tmall (B2C) store might make sense to individuals, but rarely makes sense for brands. Alibaba clearly favors Tmall in the way it sends traffic to stores. 
Any individual can set up
Close to no platform fees
No access to major events
No access to best positions in search results
Often perceived as the place counterfeiters sell things
JD is the 2nd largest platform in China. It is known for its blazing fast delivery in tier-1 and tier-2 cities. Many also perceive JD to be better at filtering out counterfeits from its platform. 
Authentic, high-quality products
Drone shipping to difficult-to-reach locations
International and local shipping
Strict requirements for setting up online shop
Highly competitive market
High initial deposit and annual service fees
Additional commission fees
Pinduoduo rose to fame with its social mechanism. People were only able to unlock ridiculously low prices if they could hit a certain quantity threshold which drove people to promote the platform. Pinduoduo was able to carve out marketshare in a Tmall & JD dominated world by getting its userbase starting from lower tier cities.
High user loyalty rate (78.4% vs Tmall at 75%)
Developed live-streaming e-commerce infrastructure
High degree of integration with WeChat, China's largest social network
Third largest e-commerce platform in China
Disadvantages of Pinduoduo
Huge issue of counterfeits like Taobao's early days
Not suitable for all product categories
Forced to cut prices
Increasing Market Penetration in China with the Right Marketing and Sales Channels
When building your marketing and communications strategy in China, it is important to pay attention to your target consumers and focus sales efforts to the medium of your strategy. No matter what that strategy is, it is crucial that you focus on:
Brand building, creating an online presence, building a reputation

KOL collaboration– your brand is about what people say about you and who's talking about you
Leveraging social media and social commerce platforms
Building out a comprehensive mobile payments infrastructure
Branding, creating an online presence and building a reputation
At every touchpoint in the consumer journey, from conducting product research to making purchase decisions, consumers care what their friends and family say about a brand. As such, reviews are essential to imprinting a positive brand experience image into the minds of these consumers as they progress through the consumer touchpoints. Your website, your e-commerce store and your product reviews are all the faces of your brand. Consumers will largely decide how they look at your brand through these facets.
It is essential to reach your target consumers through the voices that they trust. In particular, in order for your brand to establish the necessary degree of trust and authenticity, it is imperative that you collaborate with key opinion leaders (KOLs) and key opinion consumers (KOCs) to create high-quality, detailed content about your brand and products.
Some brands think that they should stick with an influencer pool that only consists of KOLs, while others think that they should only activate KOCs. This couldn't be farther from the truth! The reality is that especially in a consumer-conscious environment like China, brands need both KOLs and KOCs to build brand trust from both sides.
With their massive followings, KOLs help establish the authority and visibility of a brand. However, KOL content often comes across to viewers as highly commercial. This is where KOCs come in to help bolster brand authenticity. As consumers themselves, KOCs interact frequently with their followers and maintain closer relationships. As a result, KOC content is more likely to be trusted by their followers, which will help to boost consumer confidence in your brand when they view positive, detailed content from their favourite KOC.
How can Kung Fu Data help you enter the Chinese market?
At KFD, we help carry brands through the entire China e-commerce journey. People always ask us if we're a data research company, a market intelligence firm, a Tmall Partner, or an e-commerce advisor. Our answer is All of the above. 
Market entry consulting
Category research
Competitor research
Tmall & JD store operations
Logistics planning
We are China's premiere brand accelerator trusted to run brands from around the world. We run international brands in China with results that exceed expectations.
Want your brand to win in China but don't want the guesswork or the hassle? KFD is the key to the brand of your dreams.
Drop us a line and let's get the conversation started.