Table of Contents:
1. What is the Taobao Sales Funnel
2. Infographic
3. What's special about the Taobao Sales Funnel
4. Each phase explained
5. What happens next
1. What is the Taobao Sales Funnel
The sales funnel is an abstraction of the consumer journey: get them aware, get them interested, get them wanting to buy and finally get them to take action by making a purchase.
Some people may move through the funnel faster than others, but regardless of the speed at which they progress, consumers always move through each stage of the funnel.
This is what the funnel looks like in Taobao…
2. Infographic: Taobao Sales Funnel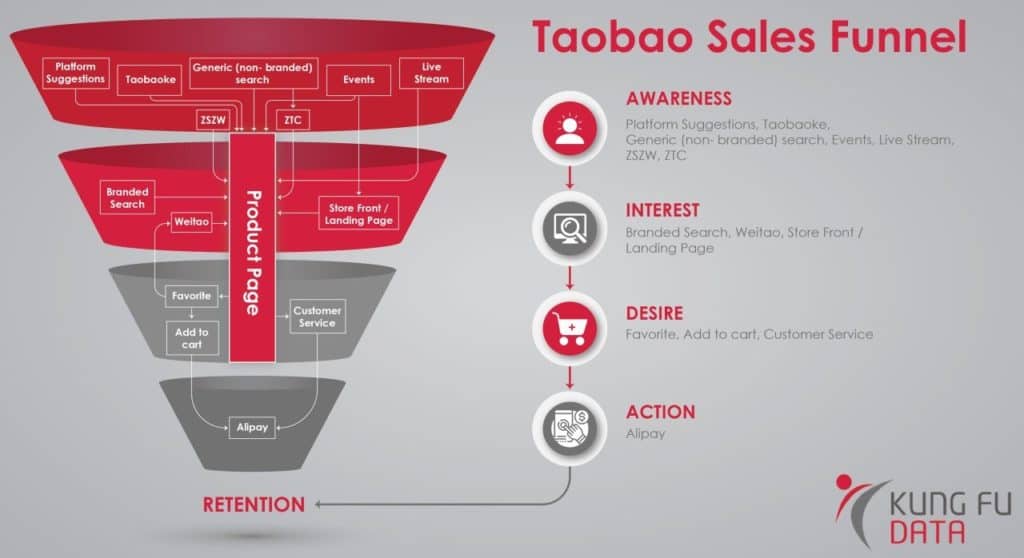 Taobao Sales Funnel Infographic
This Taobao sales funnel is modeled from the perspective of a brand flagship store in Tmall. If you're unfamiliar with any of these terms, please see our Taobao Traffic Map video which explains everything in 3 minutes.
3. What's Special About the Taobao Sales Funnel
Taobao has all sorts of ways to get people from being aware of a product to being interested. But there's only one way to move them from interest to desire…the product page.
The product page is also the only thing that can guide the customer further down the funnel (with the assistance of customer service of course.)
Yet it is surprisingly simple.
No dynamic elements on the page. You get video, but no fancy visual effects. Nothing programmable.
You can basically only use text and images.
It is designed for old school copywriting.
4. What Happens in Each Phase
At the awareness phase, a potential customer will have their first encounter with a brand's product. This can happen in a variety of ways:
Generic search: They stumble upon the brand's product in the search results page which will include ZTC (PPC) ads
Shoppers can also stumble upon platform suggestions while looking at other products. This is based on what they've been looking for in the past.
They also stumble upon new products through ZSZW (banner ads.)
Taobao's own livestream is an area for people just looking for entertainment.
Similarly, people may find out about a brand's product while watching videos outside Taobao in apps like Douyin and Kuaishou. Those are directly integrated to Taobao and would often count as Taobaoke (affiliate marketing) as KOLs often take a commission on each sale.
Platform events get a huge amount of exposure. Many shoppers find interesting items while browsing through major discount or special themed events.
At the interest phase, the shopper may be comparing various products. They may already be interested in a brand's product and directly include the brand name in their search. Or they could visit the store directly, either through an event or because of prior interest.
In the end, the goal is to get people to go to a product page. The product page is the core of the Taobao sales funnel…it is the only thing that can guide a customer from the interest phase to the desire phase. This requires impeccable research on consumers and copywriting tailored to reflect that. The page needs to say the right things to trigger emotions and make them desire the product. But that's not enough, the page also needs high quality photography—lots of it. A lot of work is involved in the product page and it is critical that each part of it hooks the viewer's attention. Otherwise, the consumer will click away and the opportunity for a sale is lost.
If consumers move on to the desire phase, many will consult with customer service (CS) before they buy. They could ask questions about the product or even try to bargain. Regardless, CS often helps tip those shoppers sitting on the fence towards taking action.
Other shoppers may add a product to their favorites or even follow the store. This is the next best thing to an immediate sale, because once they take this step they will always see the store's posts in Weitao (Taobao's in-platform version of Twitter/Instagram). This is free traffic that can bring people back into the funnel in the future.
On a further note, many of the sources of traffic seen in the awareness phase are not limited to first encounters. Many of these are repeated at the interest stage as people stumble upon the same product after already having followed the store. The store can also retarget people through paid ads. The platform will make suggestions if there's a good chance they'll revisit and buy. The store can promote sponsored livestreams and events to followers.
At the action phase– people buy using Alipay. The sale is made! Simple as that. It's the ultimate end goal.
The top marketers in the West will tell you that the getting someone to make the first purchase is the hardest. Once a shopper or visitor officially becomes your customer, it becomes easier to sell them other products.
Taobao takes this even further by providing retargeting tools. Weitao serves as a tool for re-engaging past customers or interested shoppers. It offers paid ads and even SMS marketing. Many of the items in the awareness stage are used to bring people back into the funnel.
But there's nothing as powerful as an email list that gets the full attention of the customer for the time they're reading it. In China, the closest thing would be WeChat, but Alibaba strictly bans the use of external communication tools… especially coming from their rival Tencent.
There's one tool in Alibaba that specifically allows this type of personal communication. It opens doors to allow continuous marketing to hot traffic. Best of all it is free to use, yet it's severely under-utilized in most stores.
But that's a topic for another time. If you'd like to stay on top of the ins and outs of Tmall, please subscribe to our email list.