I cringe whenever I see brands spend their first chunk of marketing budget on Wechat expecting to see a positive ROI. That's because Wechat ecommerce success stories are so few and far between.
Don't get me wrong. It's a powerful platform that enabled 800 BILLION RMB worth of transactions through mini-programs (MPs) alone last year. MPs let brands run membership programs, gift cards, O2O retail and even an online store. Followers can access all this without ever having to download anything from the app store. However…
Wechat does not solve the single biggest problem in ecommerce.
Traffic.
WeChat stores are not designed to bring in traffic that you do not already own. They're very good for engaging existing followers. But not at all for finding new ones.
The onus is on the brand to acquire every single follower. Brands do this through content marketing and through offline stores or events. But Wechat itself won't bring in a single new customer.
Meanwhile, Taobao is an environment where you are most likely going to get 80% of your customers. It's structured to bring new traffic to stores.
Exhibit 1 Taobao Traffic Map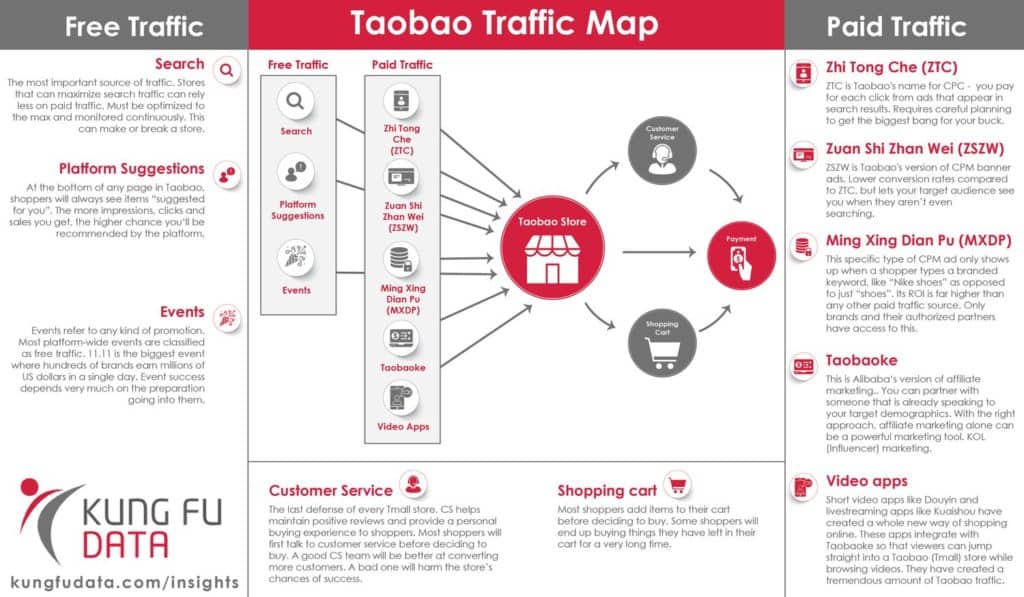 Taobao Traffic Map: Every source of traffic explained
Not only do brands get massive exposure through events, the platform naturally sends traffic to stores through platform suggestions on a daily basis. All this happens when people are just browsing around in the Taobao app.
Most importantly, people here have high intent of purchase.
Yes, it's a super competitive environment but it's only because that's where everyone goes to shop. The habit of going to Taobao is engrained into every internet user.
Taobao(Tmall) has too much control
FYI, Taobao is the go-to online marketplace in China and Tmall is the main part of it where sellers have been verified by the platform. It's where all legitimate brands open their stores. I often use these names interchangeably but for a thorough distinction, check out this 90 second video: https://youtu.be/vHbDtbIfNyA
It's true that brands on Taobao are often pressured to give up profit margins in order to get event traffic. There are way more paid options for traffic than free ones. Marketers are bidding Cost-Per-Click and Cost-Per-Mille (paid ads charged for every click and for every 1000 views) prices higher every year. It seems like it's just harder and harder to make money on Tmall.
From that perspective, growing private traffic on Wechat seems like the perfect solution. It gives marketers the chance to initiate conversations with followers at any time and sell them products over and over again. There are no platform fees for such engagement and conversion rates are much higher.
This type of marketing is growing fast and finally gaining recognition. So fast that private traffic has become a buzz word. It's really just direct response marketing adapted to the world of Wechat.
For sure it works. And of course there are success stories of small brands that made it big through wildly successful marketing campaigns. Perfect Diary is the golden child of private traffic marketing. They only started in 2016 and without relying on Tmall, made it into a top-10 list of China's unicorns.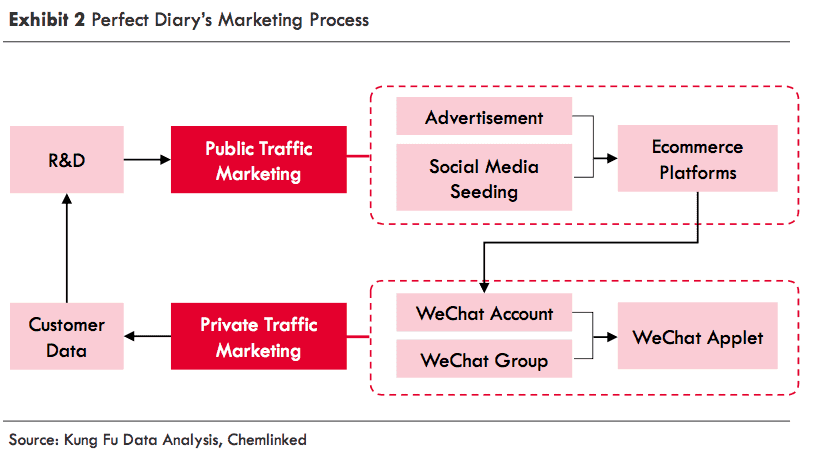 But that's what they are. A unicorn. They are the exception, not the norm.
Most Wechat stores don't even come close. Tencent says there were over 2.4 million mini-programs in Jan 2020. If you divide up the 800 Billion RMB from last year, that's 333K RMB ($49K) per program. That's nothing. It's like an empty pond, there are no fish
Over 70% of ecommerce transactions still happen on Tmall and JD. This won't change overnight. It's unlikely to change in the next few years either.
For most brands that already have brand awareness in China, Tmall is the lower hanging fruit. If there was a Hierarchy of Needs for China ecommerce, the most basic need would be running a Tmall store. It will account for the majority of sales.
Having an active social presence is certainly important too. It just falls after the Tmall operation is handled.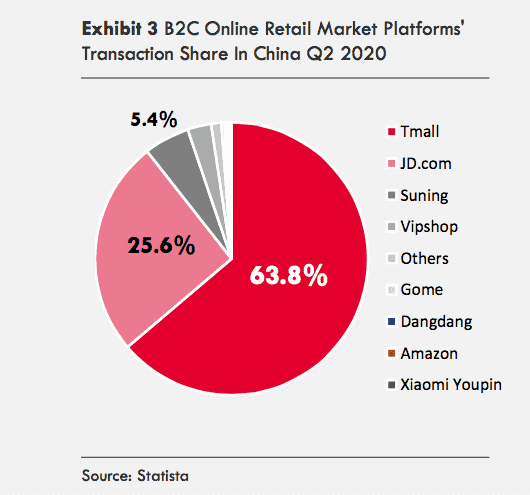 And this is so because it all boils down to opportunity costs.
More often than not, I see social media accounts with almost zero impact. A Wechat presence is certainly important, but how much you spend there really matters when you consider what that money can do in the Alibaba ecosystem. It can go directly to ad spend or creative manpower to both increase sales and awareness.
You need to choose how you spend wisely. And you can't beat capitalizing on brand value immediately.
Large brands that already have very mature Tmall stores and fat budgets don't need to worry as much. They can immediately start investing into building up their private traffic for the future. On the other hand, it also makes sense to focus on private traffic for small brands with no awareness. It would be very hard to maintain Tmall operating costs.
But for all the brands that already have a certain level of awareness… It's a no-brainer.
Nothing will produce a better ROI than capturing traffic from all the people looking for their name on Tmall.